Press Of Atlantic City • Posted: Friday, April 26, 2013 12:01 am
A DIFFERENT DUPLEX
These new upscale homes in Upper Township are duplexes in name only
By DAVID ENSCOE • 609-272-7087 • DEnscoe@pressofac.com
(Original Link can be found here.)
Builder Scott Georgetti likes to think outside the box. And nothing could be further from the box than the Cottages at Queen Anne Court in Upper Township. The small cul-de-sac subdivision off Route 9 features a mix of custom built single family homes and age- restricted duplexes.
These are not your typical duplexes. For one thing, they don't share a common wall. They're two freestanding Cape Cod style homes on either side of a double wide blacktop driveway. The only thing that connects them is a porte cochere.
"On paper they're duplexes," says Paul Rixon, a Realtor who is marketing the homes in the township's Palermo section. "You might call them semi detached duplexes. They're two living units built on one lot."
Georgetti's original plans called for building traditional duplexes to complement the single family homes on the street. But he says many of his potential customers didn't like the idea of sharing a wall with their neighbor. So he went looking for a solution.
"The building inspector told me that to qualify as a duplex, the homes have to have a physical connection," says Georgetti, who owns Georgetti Construction. "So I said, 'What if I just have a board connecting the two buildings? ' He said "I guess that would be OK.' I basically took two Cape Cods and made a minimal physical connection."
The homes do share a common lot, but it's a big lot – almost an acre.
"Each owner still has almost a half acre of ground, Georgetti says. "They can put in a swimming pool, a garage, a shed, a vineyard. It's very flexible."
When completed, the Cottages at Queen Anne Court will feature nine custom single family homes and seven duplexes for owners 55 and older. Eight single family homes and three duplexes have already been completed and sold.
"We're mixing old people with young people," Georgetti says. "We have age restricted homes and single family homes with young families and everybody interacts with each other."
Georgetti is currently putting the finishing touches on his first semi-detached duplexes. One home is under contract and the other is on the market for about $459,000. The homes have identical floor plans, with about 2,500 square feet of living space, but slightly different exteriors. Buyer can choose from four different elevations.
"We're a custom builder so people can change the layouts, put in a screened porch or different cabinets," Georgetti says.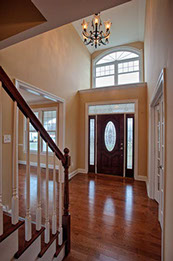 Standard features include granite kitchen counters, a gas fireplace, crown molding, hardwood floors, upgraded appliances and under cabinet lighting.
The interior has a first-floor master bedroom, a guest bedroom with access to a full bath and two upstairs bedrooms that share another full bath. A large unfinished walk-in storage area is accessed from the second-floor hall.
There's a formal dining room, a laundry room and a breakfast room off the kitchen that's open to a living room. French doors in the living room lead to a side patio or an optional deck. At the back of the house is a side-entry two-car garage.
The master bedroom has a tray ceiling that comes standard and a private bathroom with a garden tub, oversized shower chamber and a large walk-in closet.
Each house has a side door to the driveway as well as a covered front porch. The homes have private septic systems and well water.
Georgetti says the detached duplexes have appeal for people who want to live near their extended family.
"You could have a family member or close friend buy one of the homes," he says. "That way you can be close to each other - but not too close."
For more information on the Cottages at Queen Anne Court call Paul Rixon of Rixon Realty, 609-390-8821 or 609-827-7555.
Press Of Atlantic City • Posted: May 11, 2013
BUILDING A BIGGER HOME
Contractor specializes in high-end work
By BRADEN CAMPBELL Staff Writer • 609-272-7215 BCampbell@pressofac.com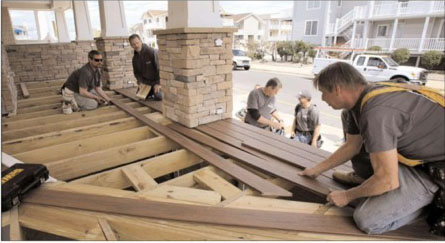 When he makes his sales pitch, local builder Scott Georgetti hones in on one word: quality. Different builders offer different things, he said. One might work quickly, but at the expense of craftsmanship. Another might offer low rates -- and similarly low reliability. At Georgetti Construction, it's the finished product, and only the finished product, that matters.
"They're hiring us because they're somebody who wants a quality job," he said. "When they walk into our houses, they can tell the difference."
Georgetti started building in the mid-'80s with another contractor and quickly made a name for himself. Before long, he said, customers began requesting him for special projects. This continued with his next employer, and in 1988, he branched out on his own with his firm in Marmora, Upper Township.
Early on, Georgetti specialized in siding. After a house he built for himself drew rave reviews, the company branched out into bottom-up construction and quickly earned a reputation.
Now, the company specializes in high-end construction, doing most of its work in Ocean City and Upper Township.
Georgetti is in the midst of a build on Central Avenue in Ocean City. The homeowner, Lynn Giacchino, of Westchester, Pa., reached out to Georgetti after she saw one of his properties near the bay. After meeting with him and a few other contractors, she decided on Georgetti.
While Giacchino said she's so far been pleased with all aspects of the work Georgetti has done, it's his willingness to respond and adapt to his customers needs -- no matter how frequently they arise -- that has most impressed her.
"Most people would want to shoot me by now, but he's just really accommodating," she said. "He wants you to be pleased and be happy with the end result."
Another customer, Mark Aaron, chose Georgetti to build his house in 2010 after a similar vetting process. He spoke with five contractors, soliciting bids from three. Ultimately, Georgetti won his business.
Aaron, whose home is a custom design, chose Georgetti because he was confident the builder could handle its complicated features.
Aaron said he was impressed with Georgetti's transparency and clear communication during the building process, and has turned to him for maintenance and upgrades in the years since. The builder has responded quickly to all Aaron's needs, even going so far as to personally check the house for him during Hurricane Sandy.
"Within about two hours, I was getting a call from him telling me what kind of condition the house was in," he said. "He's always been, and continued to be, my builder. It wasn't like he built my house and the relationship ended -- he's continued to be the builder."
Ocean City Sentinel "House Of The Week • Posted: February 23, 2011
Everything on 'wishlist' in Seaville home
By CARL PRICE Staff Writer
SEAVILLE - When a master builder constructs a house for himself, attention to detail is a given. He'll likely include all of the "wish list" items that he and his family want to make their home one of a kind.
The Scott Georgetti built home at 6 Marissa Court in Seaville is that house. Constructed in 2001, Georgetti started on more than seven acres of property that backs up to acres of protected wildlife area. The back yard is completely fenced and includes an in-ground heated pool, basket- ball court and koi pond.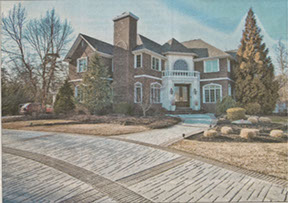 It is what Georgetti did inside that really made owners Sam and Michele Macrino fall in love with the place when Georgetti put it up for sale. They purchased the home four years ago, but are moving to be closer to family.
Sam's love for antique cars, motorcycles and all things mechanical drew him to the seven-car attached garage.
There is a lift in one of the bays. That along with a built-in air compressor, heat, full house exhaust system and rubber floors make the garage area a natural for anyone who likes to tinker or needs lots of space, almost 2,000 square feet, to store toys.
There is 6,034 square feet of living space that offers a family plenty of room to enjoy the downstairs living room, dining room, computer room, sitting porch with fireplace and piano room with marble inset to showcase the baby grand.
There is a built-in wet bar in the family room, along with a gas fire- place. There is custom painting throughout the house, including a saying above the bar, in Italian, "A meal without wine is like a day without sunshine."
There are hardwood floors throughout and nine-foot cathedral ceilings that give the home a feeling of a true manor
The Macrinos added stately columns on the first floor and the crown molding is custom made and features accent lighting for dramatic evening effects.
If the seven-car garage drew Sam's attention right away, it would have to be the kitchen and storage that really caught Michele's eye.
There is an eat-in kitchen and breakfast nook, both made of marble and permanent. There are built-in cabinets, a storage pantry with warming drawer, granite counter tops and center-island (which includes a sink).
Appliances include a professional series gas range, double oven, microwave, two drawer dishwasher and refrigerator. The first floor laundry room includes a chute from the second floor and there is a central vacuum system.
The master bedroom suite is on the first floor and includes a sitting area with fireplace, Jacuzzi master bath and shower with body jets and rainfall showerhead, his and hers sinks and walkin closets.
There is a full bathroom in every bedroom and a bathroom on the first floor. The gas hot water heater is oversized and features on-demand hot water.
The second floor features four bedrooms, another built in entertainment center with wet bar and balcony.
The closet space throughout features plenty of shelving and an attic offers even more storage space.
If all of this living area isn't enough, there is a full finished basement with full bath, game rooms and more storage area.
The two-story brick house if located on a quiet cul-de-sac and has a security system with a smoke/fire alarm and whole-house intercom. There is a four-zone gas forced air heating system and four-zone central air. The outside irrigation system has 12 zones and the basement is kept dry by a French drain and four sump pumps. The home also has a backup power generator and whole house fan.
.